With October looming large on the calendar, if you have a team building activity or conference to get in before the Festive Season, you'd better get a move on. Halloween isn't an obvious event in the corporate calendar but if you find yourself with a bit of free reign why not take the opportunity to turn your team building event into a spooky spectacular. While we do this event all year round, Halloween is a particularly good time for one of our most energetic events: The Thriller Experience.
You have two options on how you would like this to go: a dance-off with our choreographers judging, or an epic finale with everyone doing the routine together (we would recommend the latter). Our resident pop choreographers will then take your group through the famous dance moves of Michael Jackson's 'Thriller'. Don't worry if your team members have more than their fair share of left feet, delegates tend to really get into this activity and it is suitable for those that struggle to synchronise their arms and legs even at the best of times.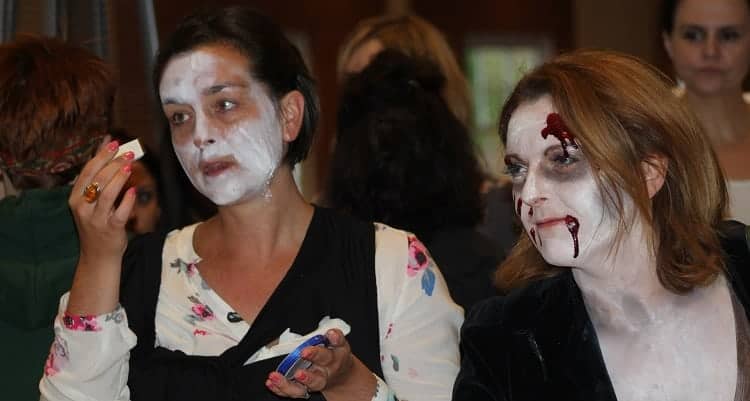 Once your teams have the dance moves nailed, it is time to make them look the part. Our professional makeup artist teaches your guests how to correctly alter the appearance of their colleagues (using a few willing volunteers), before then letting them loose on each other's faces! Once they have washed their hands, we take them over to our costumier to be fitted with ghoulish gowns and paranormal paraphernalia.
It's then on to your final performance, the question is: will it be spine-tinglingly good, or a true horror show? Either way, it's guaranteed to be a hilarious event for you and your team.
Taking part in this iconic dance is something most people don't get the opportunity to do but would jump at. Ideally we would like around 2 and a half hours to make sure you get the most out of this event; however, if you're looking to have this as a shorter activity (like a quick energiser) it is possible and we can offer an express version. Contact us for further details and a bespoke quote. 0203 905 1750 / info@teamtactics.co.uk