Is your team ready to indulge themselves into a Christmas event which they'll never forget? Then look no further as we have complied some of our favourite events for you to read about. Check them out below.
Our exclusive ice carving challenge is a great pre-dinner event, providing teams with competition, enjoyment and a new skill to take away. This stimulating interaction gives guests a 'hands on' experience which they'll never forget. With the ability to customise the sculptures, we make sure this event is tailor made for you. If you're looking for even more, we can arrange a trip to the ICEBAR for a cheeky cocktail. This fantastic venue is the home of the UK's only permanent bar made completely from ice.
We can run this event for groups between 10 and 200 guests, lasting approximately 1 hour. This Ice Carving challenge is a brilliant way to bring the team together at Christmas in a creative and fun environment. Does this event sound like it could energise and excite your team? If so, check out our event page here. Get your chisels ready and start carving!
If being cold isn't your thing then look no further. Everyone has that family member who drinks and sings far too much at Christmas but is completely out of tune. It's time for you and your team to get in tune at our jolly Christmas event. Get ready to sing your heart out as we give you the opportunity to sing your favourite ballads. This, however, isn't just your usual karaoke night…We will be putting you into the shoes of a live professional band.
Guests can select music from our extensive song list, including some of the current top hits as well as your Christmas classics. Don't worry about learning the lyrics, we will provide them all of you in advance with our backing singers leading you from the start to the finish.
Leave your comfort zone and belt out some traditional Christmas tunes, getting you in the mood for all your festivities. This incredibly fun activity is perfect for any team looking to express themselves and have fun in the comfort of some Christmas tunes. If you're ready to take to the mic then check out our event page here.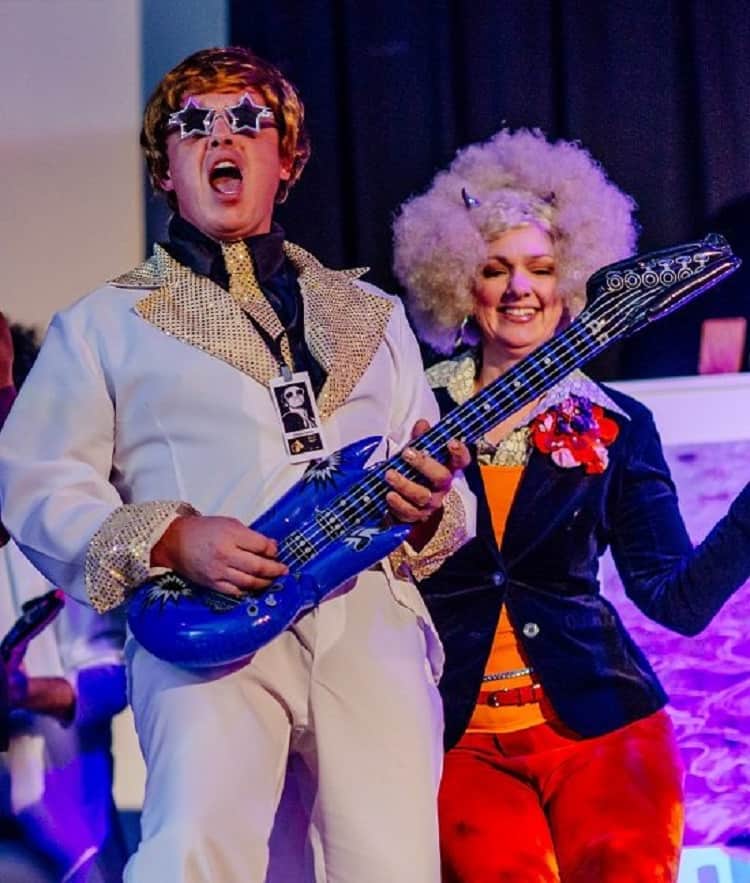 It's time to let loose and dance the night away at our tailor made Christmas Disco Party. Begin the night with a luxurious three course meal followed by a group rendition of Mariah Carey's 'All I Want For Christmas Is You.' This all-time classic is bound to get you in the mood for the festivities to come. Let the games begin, we will host a variety of games, including karaoke and dance offs, for your team to earn points in this epic competition. The grand finale will see every team hit the dance floor and show off their Christmas moves, we're expecting big things!
With music from the 70's, 80's and 90's this night is a perfect way to bring your team together this Christmas. This event is designed for larger groups but we can work with a range of group sizes, from 25 up to 300. We have the opportunity to hire out venue spaces, bars, halls ballrooms and boardrooms for your event. If this sounds perfect for you, then contact us and check out our Christmas Disco Party event page here.
Our Merry Masterpiece event is bound to test your team this Christmas. This is an excellent opportunity for everyone to come together and compete in a series of exciting mini challenges. There are three zones which all contain various challenges for your teams to compete in.
The Creative Zone will require your team to roll up the sleeves and get inventive. One minute you'll be making pom poms and the next one of your team members will be wrapped up and transformed into a zombie! The Mental Zone will test your knowledge, so get those brains in gear for this challenge. Spot the Difference, Rubix Cubes and Name That Painting are only a few of the brain boggling tasks which you team will have to complete. The Physical Zone will test you fitness in a variety of gruelling tasks such as planking and sit ups. Don't worry though, there are still some fun based physical challenges, plate spinning and juggling, to test out your coordination.
Is your team up to the challenge? Go on check it out here.
Oh no, Santa's sleigh has broken down and he needs your help. It's time to step up and deliver his presents in our drone-tastic event this Christmas. Get your woolly gloves on and learn how to build your very own drone with the help of our experts. Once you've made your final touches, it's time to race against your colleagues in your custom made obstacle race. Deliver your presents in style whilst guiding your drone around houses and other obstacles en route. This event is perfect for your Christmas Party.  
Are you ready to take on our drone-tastic challenge this Christmas? If so, then check out our Santa's Drone Drop page. Alternatively, if you need more Christmas party activity ideas then browse our Christmas page or Contact us for more info. For more information check out October's Event of the Month: Santa's Drone Drop for more information.
Contact us for more information about our Christmas events.
0203 905 1750