If you are reading this you have probably just been given the very important job of organising your office Christmas party. Christmas time in the office is exciting and fun. We know how unpredictable the last year has been and we understand how much effort and stress goes into planning the Christmas party. That is why you have come to us, we guarantee you a stress-free event filled with fun, food, drinks and everything else you would need to make it the best Christmas office party to date!
With less than 6 weeks until Christmas, it will be here before we know it! Now is the time to start thinking about what you want to do. We know that last year we didn't get the normal Christmas celebrations we are used to, but we have everything crossed for this year to be a blast. It is the most wonderful time of the year!  
We have been working very hard here at Team Tactics HQ to bring you the best Virtual And Live Christmas party ideas for remote, hybrid and office workers. We are living in unpredictable times so there is uncertainty about what is doable in terms of large events but we are now available to book virtual and live events for Christmas 2021. We have a Covid guarantee on all of our live events so if they do not go ahead due to local restrictions we will simply move your event to another date, free of charge.   
It is not all doom and gloom. We have the following fun virtual and live Christmas activities. All our activities are highly engaging, fun, and very interactive which means everyone gets involved and ensures there will always be plenty of laughter at your virtual or live Christmas party. They are a great way to help motivate staff and get them communicating with each other. Christmas is a time for fun, food, drinks, and laughter. This can all still be achieved with our exciting virtual or face to face Christmas party activities.  
Top Virtual Christmas Party Ideas 
Seal The Deal – The Christmas Edition
Seal The Deal is one of our favourite games and we have jazzed it up to turn it into a Christmas fun filled event. With a Christmas twist this game is not one to be missed. The game will follow a similar format to the nostalgic game but with added energisers to keep the whole group engaged. It will be Christmas themed throughout and it will be a party atmosphere bringing teams closer then ever before.
Who's Got It? Scrooge Scavenger Hunt 
There is nothing scrooge about this game the name is just catchy! Join us for a crazy Christmas scavenger house hunt. We will take you on a Christmas adventure through your own home. Teams will take part in 5 thrilling rounds of games ranging from 'Hum That Tune' to 'Observe That Xmas Ad'. The group will need to think on their feet and outside the box as every second counts!
Who Dares Wins! Winter Wonderland Edition
Are you feeling festive? Are you ready to take on our 4 winter wonderlands in our festive Who Dares Wins? This game will challenge teams as they go head to head and complete interactive and fun challenges along with exciting missions and come against several festive surprises along the way.
Team ADVENTure
Your very own virtual advent calendar is here! This game is highly engaging and will have everyone up on their feet laughing. We have 24 advent doors to open. Behind each door is a challenge which individuals take on as well as some team challenges. There is lots of points and laughter to be made and this game is guaranteed to put your team into a Christmas festive mood.  
Merry Madness
This one is exactly what is says, why not take your team on a virtual Merry Madness adventure, a selection of wacky Christmas games to get everyone in the festive spirit including: Soundinculous and Quiz rounds with a twist. This team building activity is one that will have you up and moving as each team will take on several mad challenges.
Ready, Steady Christmas Cook-A-Long
Do you and team fancy a cooking challenge? Why not have a Christmas cook off or if you just fancy a Christmas meal with your favourite team then this is the one for you.  Enhance your cooking abilities with a fun and interactive virtual cooking session with our professional chef! This can be very versatile so do call us for more details. Guests can get party food season ready and learn how to create delicious canapés. Impress your dinner party guests this Christmas!   
Rockin' Around The Christmas Cocktail 
Nothing says Christmas more than cocktails. Celebrate this Christmas with our fantastic Christmas Cocktail Party. We have designed the perfect cocktail masterclass to tickle your fancy complete with everything you need for an enjoyable afternoon/evening for a virtual cocktail party.
Top In-Person Christmas Party Activities
Christmas Treasure Hunts 
Wrap up warm and make your way around London with your team. Go head-to-head and compete in our amazing, highly interactive GPS treasure hunts. Not only can you see your opponents on your interactive map there is also as scoreboard so you can see how each other are doing. Christmas is a wonderful time to be walking around London. Do not miss an amazing opportunity to be with your team this Christmas. Our Christmas treasure hunts are based in 3 different locations including, Covent Garden, Southbank & The City. 
Santa's Dash Around The World 
Can you complete this ultimate Christmas challenge with your team? Travel around the world with no jet leg and complete the various challenges you will face from tower construction in Italy to visiting America where you will have to identify important people.
The Crystmas Maze
This is by far our most popular Christmas activity with a mix of high tech GPS technology and one of the best places to be at Christmas, London Town! Take on the four Zones that are filled with Christmas challenges and questions. You will be competing in teams. The Team with the most points wins! The challenges range from physical to mental. Christmas hats are optional but we love them! You have two locations to pick from including our Westminster location and our Tower Bridge location. 
Which One Is Right For Me?
Virtual
All of our virtual games are exciting and are sure to leave you laughing. You can even dress up for the occasion however this is optional so do not feel pressured! We love seeing teams who are dressed head to toe in festive themed outfits including reindeer antlers, tinsel and Christmas jumpers. Virtual events are also a more affordable option for your Christmas party. A venue is not required as everyone is staying at home which makes the whole event a lot cheaper. A lot of bars and venues require a minimum spend during the festive period which can leave you spending a lot of the budget before thinking about the entertainment options.    
Face To Face
Live events create a more personal feel with your colleagues as they are reunited in person. You cannot quite create the same interaction on a zoom call compared to being together as one in a venue. Guests can also enjoy a drink and some food together which everyone prefers in person. Being together also offers you the chance to catch up with a specific few at the Christmas party and you can spend time with those you enjoy the company with. 
Remember the most important thing to consider is your team wellbeing, so do what they are most comfortable with. We are here for you either way!
Contact us today to discuss your virtual and live Christmas party.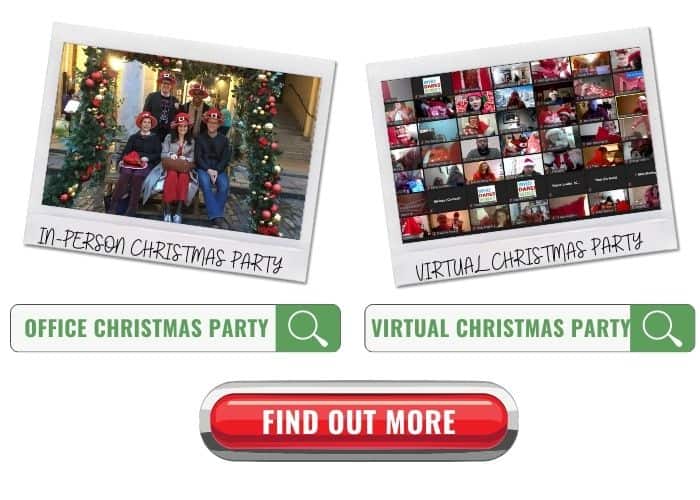 Blog updated 17/11/2021