Dinner has happened, the wine/port/cheese/beer/life now weigh heavy and subtly sway your guests toward sleep. STOP, not on our watch! While the list below does include a few energisers, other events herein are to be enjoyed like a fine wine: with a meal and remembered for a long time. Read on for some of our more unique events which are sure to encourage thought-provoking conversations amongst your guests…
1. Antiques Curio
Antiques Curio is a unique addition to any event. This is perhaps best suited to being combined with a meal as you can be assured that everyone will be sitting down and can pay full attention to the task at hand. Guests are presented with a range of unusual antiquities and must plumb the depths of their knowledge (or lack thereof) to figure out what it is that they are looking at. This is all under the auspices of our engaging experts whose knowledge and wit will entertain your guests. This event can be run as a quiz, an auction, or an enlightening conversation, it really is up to you. We can also do this event anywhere.
2. Disco Trivia
This is an unforgettably fun experience that includes music quizzes, dance-offs, and karaoke! Of course no Disco is complete without Afros and ridiculous sunglasses, we bring more wigs and props than you can shake a rhythm stick at. Our fantastic hostess is sure to get even the most reserved amongst the group up onto the dance floor for a team event like no other. If you think you're too grown up for a disco, why not try our James Bond version, complete with toy guns and masks.
3. Clap-Happy
Don't panic, we've not started wearing tie-dye t-shirts! This is a fabulous fun event which is great as an energiser. Each delegate is given their own pair of coloured rubber gloves and our specialists get your team working together to build upon each others' clapping to build the rhythm. Just imagine everything you can do with your hands, now add rubber! This is perfect for smaller venues and overseas events due to the lack of equipment required.
4. Around The World in 80 Minutes
In this activity your teams are taken on a virtual tour of the world, answering questions and completing challenges along the way, all while they compete against each other and the clock. Teams will have to build sculptures out of things as varied as pasta and Lego (not at the same time!) and communication is key to this incredibly varied event. The tactile elements of this challenging event are perfectly complimented by technology in the form of the latest iPad mini which teams will need to complete certain tasks. This event can be run as a fun fast-paced 80 minute event, or broken up in to more manageable chunks to be enjoyed between the courses of a meal.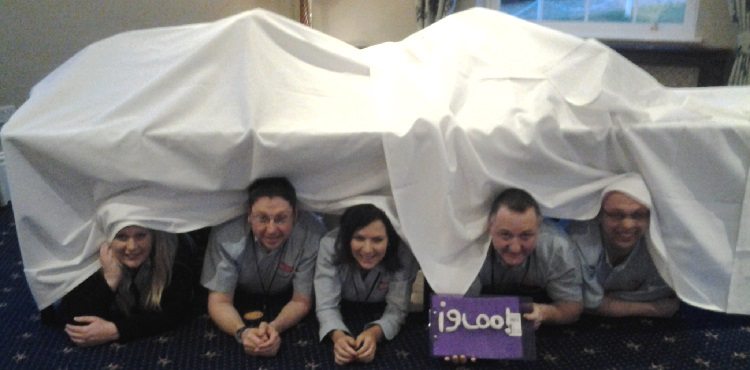 5. Haka
Our Maori tribesmen will make a dramatic entrance to your event and perform the Haka to the delight of your guests. This traditional and ancient Maori Tribal dance works well as a spectacle, but have you ever considered taking part? This works well as a conference energiser, a team building activity or purely to have some fun over the course of a dinner. So – don the Maori war paint (yes, we bring some of that too), and prepare to get LOUD!
We have plenty of other events, contact us for more ideas:
0203 905 1750